www.TheImmigrants.com
Click here to listen to tracks from the 16-Song CD, Charlestown, released by The Immigrants on Railway House Records in 1994.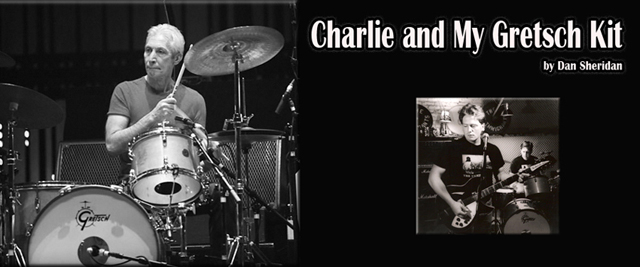 Charlie and My Gretsch Kit
by Dan Sheridan ~ drummer in The Immigrants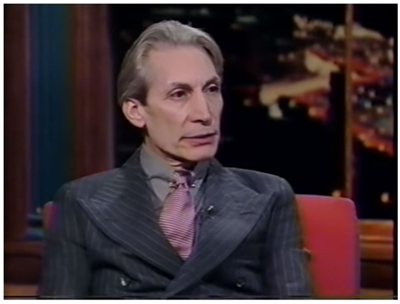 May 19, 2019
Last week, I watched a rare interview with Charlie Watts – the drummer in The Rolling Stones – a kindred spirit. Back in 1990, when I looked around the music shop at all the drum sets on display – gleaming and sparkling with chrome hardware – big black Tama sets, a Yamaha set with a double-kick drum for Heavy Metal drummers like Tommy Lee Jones (correx -that's the actor – Tommy Lee was in Motley Crue) that ain't me, I said to myself. I listen to this song by Wilco - Heavy Metal Drummer as I scribble away...
What's that little drum set way up on the shelf collecting dust? Just maple – a pure wood finish – no front drumhead on the bass drum with a big logo to identify the brand such as Ludwig or Pearl.

Oh, that… that's a Gretsch.


An open headed drum kit – no bottom drumheads – a little 4-piece kit. I felt like Charlie Brown picking out a Christmas tree. With all these big, fancy drum sets, I picked the loneliest, saddest looking drum set in the store. It looked like a neglected pup that needed a home.
I thought about my brother Bill's Gretsch guitar – a hollow-body electric guitar from 1967 with a maple sunburst finish. Then I thought of Charlie Watts – a quiet, modest guy in this band called The Rolling Stones. The guy drumming to Get Off My Cloud.
All right – I'll take it.
I found the receipt – Oct. 27, 1990 for $399 plus tax. I took the bass drum hardware off my Tama kit, power-drilled some holes, and put a front bass drum head with the Gretsch logo on the cover.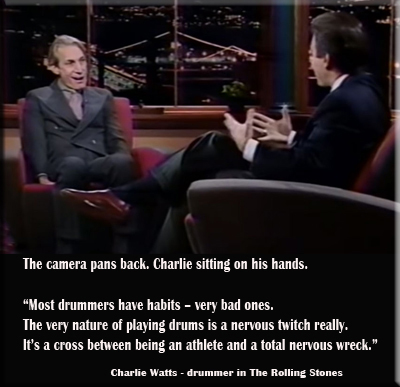 The Interview with Charlie Watts by Matt Lauer was broadcast on Oct 26, 1993. Sitting on his hands, the drummer in the greatest rock band, refuses to admit this fact. He looks like a mild-mannered Clark Kent dressed in his suit and tie - hair combed back. Underneath, he is Superman - the drummer in The Rolling Stones.
"I'm not a Steve Gadd or a Buddy Rich. I'm not like that."
Matt Lauer pipes in, "But if you talk to Keith Richards or Mick Jagger they say, Thank God for Charlie Watts for 30 years."
Charlie comments, "they're very kind and gracious."
The camera pans back. There's Charlie sitting on his hands.
"Most drummers have habits – very bad ones. The very nature of playing drums is a nervous twitch really. It's a cross between being an athlete and a total nervous wreck."
Charlie has been married to the same woman since 1964 – he has one daughter – a kindred spirit…
---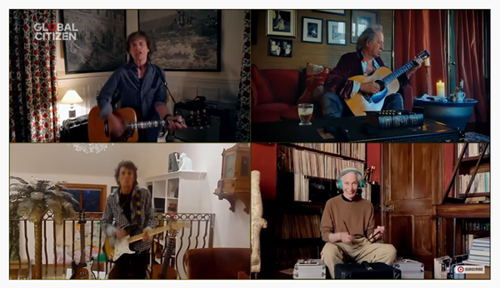 April 28, 2020
Last weekend, we watched the One World online concert. Acts from around the world performed from their own home to help the World Health Organization fight COVID-19.
Then along came The Rolling Stones – split into 4 screens: Mick, Keith, Ronnie, and Charlie Watts playing "air drums." Charlie stole the show – he looked so happy in his headphones playing imaginary drums to You Can't Always Get What You Want.
I often play air drums on long road trips.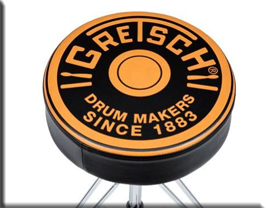 But I became curious – why didn't Charlie sit behind his Gretsch kit at home?
I found an article that answers this question.
"But there's a reason why Charlie doesn't drum at home – his wife doesn't like the noise, therefore he can only play drums on tour." I had to laugh. The drummer in the greatest rock band in the world can't play drums at home.
I asked myself again. Why? Because he loves and respects his wife and daughter.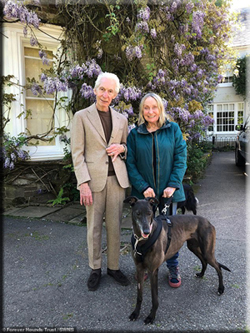 I often ask Terri and Katie, is it okay if Dad plays drums? Sure Dad, says Katie. Dan, go play your drums, says Terri… They are wicked understanding to put up with me rockin' the house down in the basement – all these years. The basement lights flicker – when dinner is ready - when it's time for me to stop.
The other day some new Gretsch stuff arrived – a new hi-hat stand, a new snare drum stand, a new bass drum pedal, even a new Gretsch drum seat. I've had this old hardware since 1983. I'm the luckiest guy in the world!
June 2, 2020
Happy Birthday, Charlie! I read an article in the Daily Mail - he and his wife Shirley adopted a greyhound named Suzie- the second fastest animal on earth.
Buddy Rich and Gene Krupa with some excerpts from Tim.