www.TheImmigrants.com
Click here to listen to tracks from the 16-Song CD, Charlestown, released by The Immigrants on Railway House Records in 1994.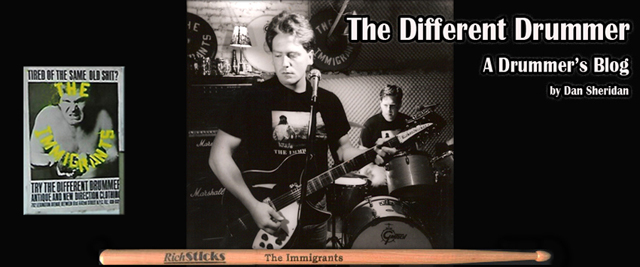 The Different Drummer - A Drummer's Blog
by Dan Sheridan
February 8th, 2010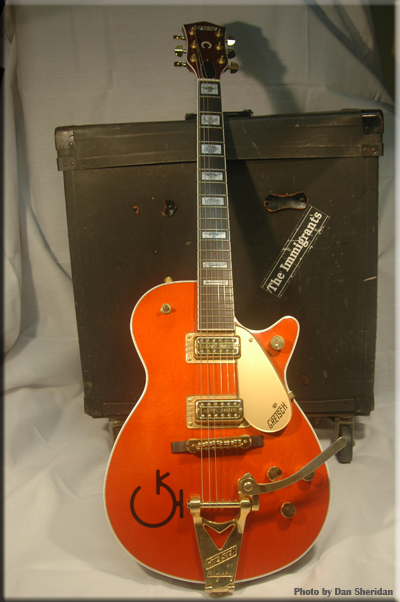 6:00am - Saturday night was a momentous occasion of sorts – for the first time in 5+ years The Immigrants played once again. Where did all those years go? A whole chapter of my life as a drummer in The Immigrants. After clearing out the storage room, I set up my old Gretsch drumset. I haven't played those drums in a long, long time. My trap case where I keep my snare drum and sticks, was a time capsule of sorts back to 1994-1996 - 15 years ago – old set lists to shows we played at clubs around Boston – The Rat, The Middle East, Club III, and of course, The Causeway...
December 3, 2012
A day for a journal entry or the Diary of a Wimpy Kid. I've read two installments by Jeff Kinney – Dog Days and Book the First. His first line – "First of all let me get something straight. This is a journal, not a diary… don't expect me to be all Dear Diary this and Dear Diary that."
Later that night, I set up my Gretsch drumset for the first time in a long time. Bill came over with his Rickenbacker and Gretsch guitars and the two old geezers played some music. Winter is Closing In, one of Bill's songs – a backlog of songs we didn't get a chance to record. Katie came down to hang out and listen for a bit. She asked Terri, "Mom, how come they stopped playing? Their songs are in my head." "They have kids now, honey."
That is not so much the case. Like my mountain bike in the shed, I just don't have the time. A sad expression, a sad excuse.
January 21, 2014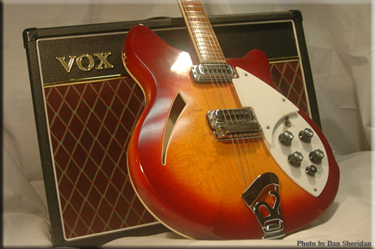 Bill came by the house with his new Vox amp. I set up the Gretsch drumkit for the first time in a long time while Bill tuned up his 6-string Rickenbacker and his black 12-string. It was a trip down memory lane – I reached into my old trap case – this drummer's black box with sticks and snare drum and Zildjian cymbals.
Dan, have you got any old set lists in there?
I dig around and find Bill's old Berklee College of Music notebook – then I find some old set lists: Club III – Sept. 2, 1994, The Causeway - Jan 13, 1996, and on and on – twenty years ago. These last ten years went by fast – it feels like we just moved to New Hampshire in 2005 – when Katie was barely one. Before you know it, Bill, we'll be hitting 60 in another 10 years.
Yeah, we'd better get these songs down… There is a backlog of songs that we need to get down – before they evaporate into thin air. I need to get back to the rudiments.
May 30, 2016
5:14am – Happy Memorial Day – I still cannot believe we'll be seeing Ringo in concert with his All-Star Band!! Terri bought Beatles t-shirts. Right now, I'm listening to Photograph. My hero – Ringo – the drummer with a thousand faces – from Helter Skelter to Rain to What You're Doing – the drum intro – the drum exit. What you're doing to me… Ringo – the drummer I tried to be… He is 75 and still kickin' the bass drum.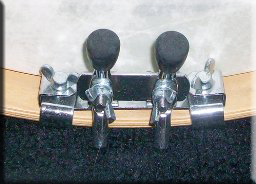 I have Ringo to thank for using the bass drum anchor. At one show - The Rat - (The Ratskeller) in Kenmore Square near Fenway Park - this was sacred ground - where The Police played, where The Jam played. It always happens on stage – never in rehearsal - Murphy's Rule – Murphy's Law – Anything that can go wrong, Will Go Wrong. My bass drum started inching forward with each thud – closer and closer to the edge of the drum riser – a little stage upon a stage for the drummer. Bill turned around and gave me that look - that Benny Goodman "Death Ray" look. The bass drum is my foundation – after each song I pulled her back. Then I thought about Beatle photographs – Ringo's Ludwig Kit – the dropped "T" on The Beatles logo on the bass drum-head. What is that curious little contraption at the bottom of his bass drum I often wondered? Ah, hah! It's a bass drum anchor. I bought that little contraption to lock the bass drum in place. THANKS, Ringo!
Sept 4, 2016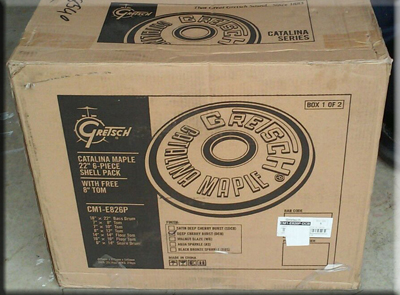 Sunday – A strange week – Hurricane Herme is heading up the coast. Listening to The Best Thing that Never Happened by Paul Westerberg formerly of The Replacements. I got home from work on Weds – a cryptic text from Bill – new addition to my studio. I look at my dumb-(not-so-smart) cell phone – a picture of a box of some sort… I text back: What is it? A drum set… I double take and forward the photo to my computer to take a good look.
There before my eyes is a giant Gretsch drum set box. What is this? A Gretsch Catalina 8-piece drum set. She is a Stradivarius beauty – a work of art in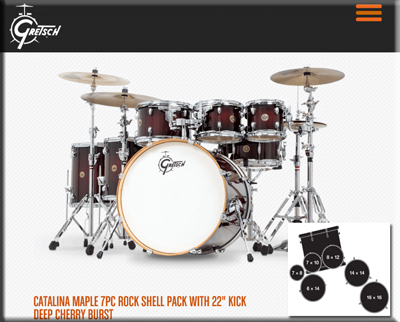 wood and gleaming chrome. I love my old Gretsch drum set. I butchered my Tama kit – removed the hardware from the bass drum. It is still up in the rafters. The Gretsch bass drum did not have a front drum head – all the toms are single-headed – not double-headed. I have had the same drums since 1990. This is the drum set I took into the studio. I ordered a Gretsch practice pad. I cannot wait to see this new Gretsch kit. What the hell possessed Bill to buy me a new drum set? He is setting up a studio. This will be the studio kit – then I have my practice kit. Now, I really got to get back to practicing – every day – rudiments. This new Gretsch practice pad is awesome… Another cool song by Paul Westerberg – Whatever makes you happy! :-)
December 10, 2016
Bill got me a box of drumsticks for my birthday. Wow, they even used my favorite font -Bookman bold. I keep playing along to Kathleen by Josh Ritter - the triplet on the Hi-Hat. "These sticks are dipped in a gripper goo at the end - so you won't drop 'em, Dan," said Bill... Okay, wise-ass ;-) THANKS, BILL!

January 18, 2020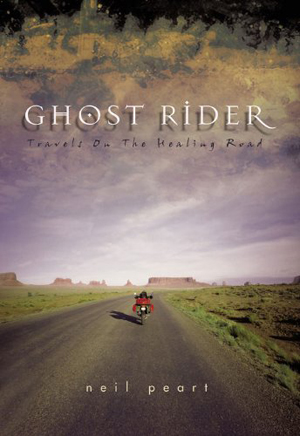 Saturday 6:09am – Two minutes to write. A tribute to Neil Peart, the drummer from Rush on the radio tonight. He recently passed away – a rock god if ever there was one... I – a mere mortal – sitting in the audience at Radio City Music Hall in 1983 during Neil Peart's drum solo at the Rush concert. Neil wrote the lyrics for Geddy to sing – I can't pretend a stranger is a long-awaited friend. I just started reading his book, Ghost Rider – a gut-wrenching story - his daughter was killed in a car crash – then his wife died of cancer the following year. He got a BMW motorcycle, then rode across Canada – Ghost Rider. Behind that drum kit - a poet's heart.
May 19, 2020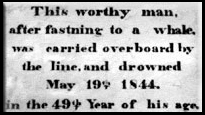 Tuesday 4:25am – Reminiscing about writing the lyrics to The Ocean Breathe: Listening to an old bootleg of The Beatles in Hamburg with George Harrison on lead vocals singing Buddy Holly's Reminiscing... I look at the date of the cenotaph of the photograph I took back in 1994: May 19, 1844. It's 1992: Sitting at my drum kit, pen in hand, notebook on the snare-drum as my desk, I try to scratch out the lyrics and figure out the drum chart to this new song Bill played for me – The Ocean Breathe. [See: Reminiscing about The Ocean Breathe.]
May 20, 2020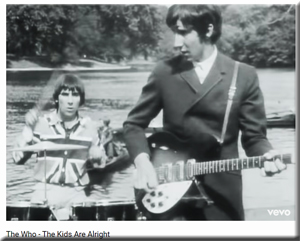 Yesterday was Pete Townsend's birthday - Last night, I played drums to my favorite cover on our set list: The Kids are Alright. Bill often plays it for me on his Rickenbacker... "Sometimes I feel I gotta get away. Bells chime, I know I gotta get away." There's Pete doing a windmill with his Rickenbacker - the old, rare, hard to find, f-hole Rick. Keith Moon playing drums - NO hi-hat. Krazy Keith - what drummer plays drums without a hi-hat? Keith Moon. John Entwistle holds it all together as Roger Daltrey sings, "The Kids are Alright."
Sometimes I feel I gotta get away...
Bells chime, I know I gotta get away...
And I know if I don't, I'll go outta my mind.
Better leave her behind with the Kids are Alright.

Happy Birthday, Pete!
Reminiscing about The Ocean Breathe