www.TheImmigrants.com
Click here to listen to tracks from the 16-Song CD, Charlestown, released by The Immigrants on Railway House Records in 1994.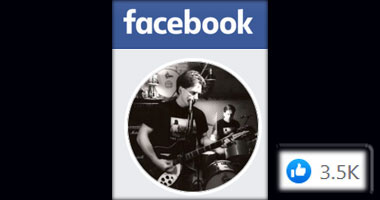 Our Facebook Page
Check out The Immigrants on Facebook for updates: Click here Facebook.com/CharlestownCD/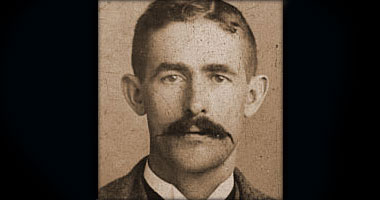 Dedication Page
The Immigrant website is dedicated to our great-grandfather, Jack Lynch, an Irish immigrant killed on the job in a NYC sewer on August 26, 1908. Click here to read article in the NY Sun.

Music Press Reviews
The Immigrants — "The next Morphine?"
The Noise, Rock Around Boston
~ Boston, Massachusetts ~
Oct. 1993
The Immigrants
These Charlestown-based newcomers sport an intriguing sound with an incantatory edge not too far short of compelling.
Their melodic instincts are quite keen and the vocalist's phrasing is original and chuck full of irresistible hooks. The next Morphine? Watch this space. Pick hit: "Subway Station." Tape of the month.

The Noise
Boston, Massachusetts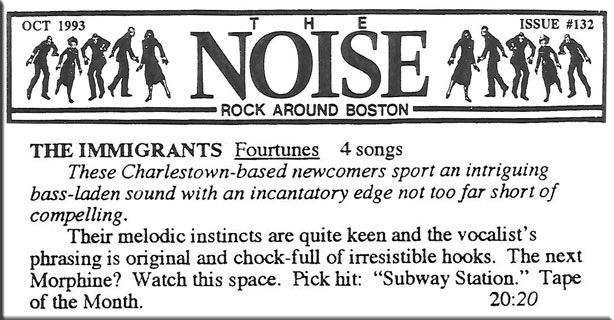 ---
Pit Report
~ Boston, Massachusetts ~
Sept. 1993
The Immigrants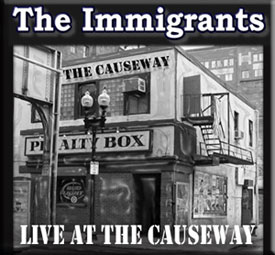 The Immigrants check in with "four tunes" (clever title) that recall the early workings of The Smiths and The Cure, yet have a gritty element straight out of the early Volcano Suns (The Bright Orange Years and All Night Lotus especially). Lyrics possess a certain weirdness which is not immediately likable, yet is better than the usual pop slop that often ends up here. "Murray & Sadie" is a tale of travel companions, "Enterprise Ride" and "Subway Station" add depth and dimension due to their dissimilarity. The Immigrants are young but unusual. Please keep us up to date.
Pit Report
Boston, Massachusetts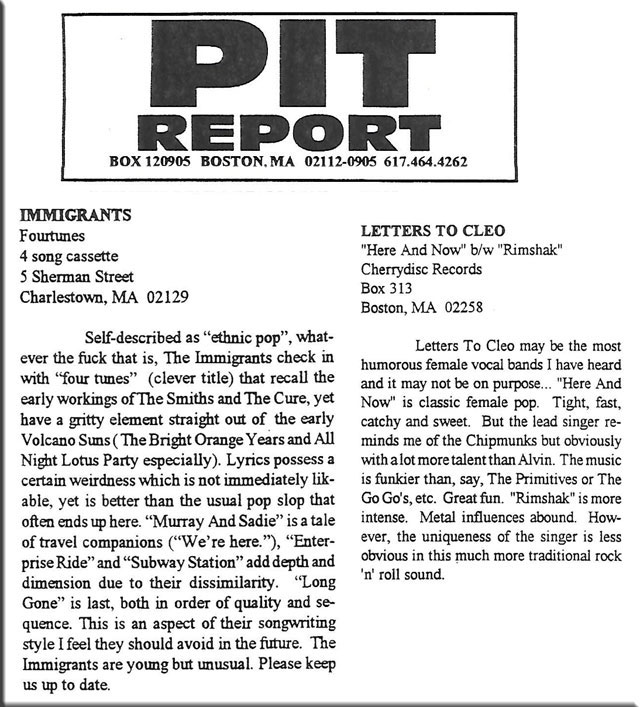 ---
Music Press Reviews - Part 1 | Music Press Reviews - Part 2 | Music Press Reviews - Part 3